Quality documents
Avionix's Products have all of the following documents available for customer review:
Product Specifications
Product Drawings
I/O (Installation and Operating) instructions
ATP (Acceptance Test Procedures)
ATD (Acceptance Test Data)
MTBF's (Mean Time Between Failure)
MTBUR's (Mean Time Between Unscheduled Removals)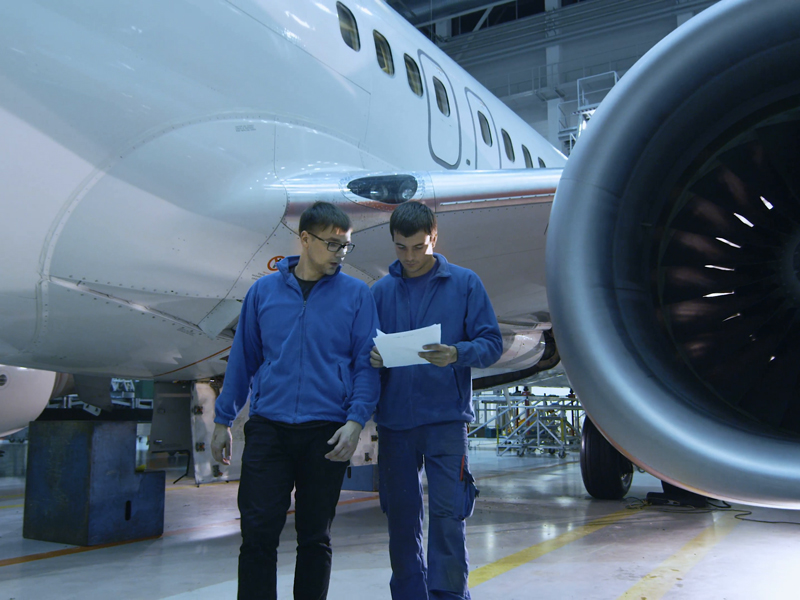 AVIONIX QUALITY POLICY
Avionix Corporation Scope AS9100D 4.3: Manufacture and Repair FAA-TSO Approved and/or other aircraft Instrumentation, Pressure Sensing Devices, and Mechanical Assemblies for the Aerospace Industries.
Permissible Exclusions:
Avionix Corporation claims a permissible exclusion for 7.3 Design and Development.
Avionix Corporation Context of the Organization: (AS9100D 4.2 & 4.1)
1. Purpose
The purpose of this procedure is to define how the company's Strategic Direction is developed by Corporate through the identification of interested parties, issues or concerns, risks, and opportunities.
1.1 The Vice President has overall responsibility for the Context of the Organization system.

2. Interested Parties
2.1 "Interested parties" are those stakeholders who receive our products and services as listed in the Avionix Scope. The interested parties applicable to Avionix Corporation are listed in the Risk Register Log, along with the reason for their inclusion. This includes both internal and external parties.

2.2 The identification of an interested party does not necessarily bring that party into the scope of the QMS; for example, Regulatory Bodies and/or Certifications bodies.
AVIONIX INTERESTED PARTIES LIST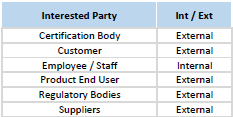 3. Issues of Concern
3.1 For each interested party, the related issues of concern shall be identified in the Risk Register Log. These issues may reflect direct concerns of the party (for example, customers are concerned about the quality of the products they purchase) or they may be indirect concerns. Such concerns may impact on the interested party, or maybe concerns derived from the party that impacts on Avionix.
3.2 Issues may be either internal or external, depending on whether the interested party is internal or external. In addition, a certain type of party may have both internal and external concerns.
3.3 Avionix will identify internal concerns as necessary.
3.4 Avionix will identify external concerns, as necessary. For now, the following are external concerns affecting Avionix are regulatory bodies, certification body, customer, product end user and supply chain issues. See the Avionix Context of the Organization Log: Interested Parties List, I-223A Avionix Interested Parties List and I-223B for Avionix interested parties issues.
4. Risk and Opportunities
4.0 Opportunities
4.1 Management will then identify risks and opportunities related to the issues of concern within the Risk Register Log.
4.2 Within the Risk Register Log, each risk and opportunity will be noted, along with the primary process involved, priority, and bias. The "bias" identifies if the issue is a risk, an opportunity, or some blending of the two.
4.3 Management will then determine a treatment method for each risk or opportunity. Risks are managed to reduce their likelihood and consequence, while opportunities are managed to increase their likelihood and consequence. Blended issues may require more complex treatment.
4.4 Where a risk is determined to be treated via a Failure Mode Effects Analysis (FMEA) style treatment, these must then be entered into the Risk Register tag within the Risk Register Log.
4.5 Opportunities are managed via the Opportunity Register tab within the Risk Register Log. See I-223C for Avionix Risk Register.
5. STRATEGIC DIRECTION
5.1 From the information above, the Corporate devises a "strategic direction" which is documented in the records of management review.
3.0 Quality Policy and Quality Objectives
Quality Policy AS9100D 5.2
Our quality policy is to manufacture and repair FAA-TSO and/or other aircraft instrumentation, manufacture pressure sensing devices, and mechanical assemblies that meet customer and regulatory quality and delivery requirements. We are committed to meeting the requirements of our quality management system and continually improving its effectiveness.
AS9100D 5.2.2 Quality Policy Communication:
To Customers see Avionix Procedures Manual 5.1, section 1.4.5.
Quality Objectives
Avionix Corporation has established specific measurable quality objectives. The quality objectives and their results are discussed at management reviews.
1. To maintain a customer return rate of 98% or better.
2. Increase delivery performance to 98% or better on time
NOTE: These quality objectives are integral measurements of all of our processes.
Where applicable Avionix and its suppliers must conform to United Technologies ASQR-01 and Honeywell SPOC requirements.